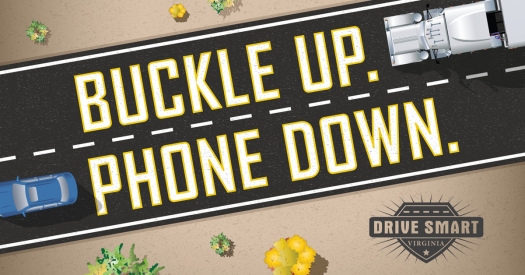 DRIVE SMART Virginia Hosts 4th Annual Distracted Driving Summit
Mooresville, NC (March 13, 2012) – Few people better appreciate the importance of safety than a guy who travels around a racetrack at speeds approaching 200 miles per hour.  Given that, Germain Racing driver Casey Mears will be teaming with DRIVE SMART Virginia and his sponsor GEICO for the April Martinsville and Richmond NASCAR Sprint Cup Series races to bring awareness to the hazards associated with distracted driving.
April is Distracted Driving Awareness Month in Virginia and Mears' #13 GEICO Ford Fusion will help deliver the message that 'driving distractions can be deadly… buckle up, phone down'.
Janet Brooking, Executive Director, DRIVE SMART Virginia said, "We're excited about the partnership with Casey Mears, GEICO and Germain Racing.  Casey understands that no matter how well you drive, distracted driving is dangerous at any speed. Any time your hands are off the wheel or your eyes are off the road, you could injure yourself or others in a crash.  We're glad Casey shares our passion and we hope that together we can convey the importance of our message."
As a husband, and father of two young children, Mears is a strong advocate of the anti-distracted driving campaign.  The partnership with DRIVE SMART Virginia offers him the opportunity to support an initiative that will save lives with its message.
"Distracted driving is something that always concerns me because people don't realize how much attention it diverts from focusing on the road, your surroundings, etc," Mears said.  "I'm excited to partner with DRIVE SMART Virginia to get this message in front of all race fans.  This is also one of the things I love most about being associated with GEICO, that they truly care about people and are willing to do whatever they can to increase safety among their consumers."
Some key facts surrounding distracted driving:
If you text and drive you are 23 times more likely to have a crash.
8 out of 10 crashes involve a distracted driving incident within 3 seconds of the incident.
Talking on a phone, even hands free, reduces the brain activity associated with driving nearly 40%.
In 2009, nearly 5,500 people were killed and 500,000 injured nationally in distracted driving crashes.
Wear your seatbelt: it's the best defense against a distracted driver.
DRIVE SMART Virginia's mission is to educate drivers and raise traffic safety awareness in order to save lives and reduce injuries on the roadways of Virginia.
As part of Distracted Driving Awareness Month, DRIVE SMART Virginia has planned events from Bristol to Virginia Beach and from Martinsville to Northern Virginia. Many workplace partners are planning a distracted driving day at their offices, including a letter from an executive to employees about distracted driving.  Some schools will distribute posters and brochures.
To learn more about DRIVE SMART Virginia, please visit: www.www.drivesmartva.org
To learn more about the GEICO Racing program, please visit: www.geicoracing13.com