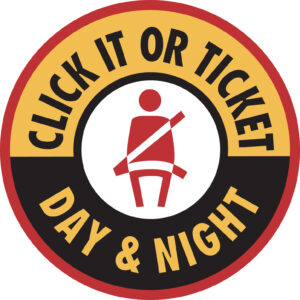 We partner with the Virginia Department of Motor Vehicles Click It or Ticket campaign each May. The Click It or Ticket message reminds everyone to wear their seatbelt or face getting a ticket. Additionally, we provide the social norming campaign "Buckle-Up, Live On."
A seat belt is your best defense against a reckless, impaired, or distracted driver. Did you know that:
Most fatal crashes occur at speeds below 40 mph and within 25 miles of your home.
If you're in a crash and are thrown from the vehicle you have a 75% chance of being killed. When worn correctly seatbelts reduce the risk of moderate to critical injury by 50%.
Death rates are more than 8 times higher when the occupant is not buckled or restrained.
In 60% of fatal crashes the victim isn't buckled. However, when worn, seatbelts can reduce the risk of fatal injury to front seat passengers by 45%
It's simple: You're safer in your car when you're buckled. Your passengers are safer when they're buckled. A seatbelt improves your odds of surviving a serious traffic crash.
Set a good example. Adults who don't buckle up are sending children the message that it is all right to not wear a seat belt. Children model adult behavior. 70 percent of the time that a driver is unbuckled, you can bet that the children riding in that vehicle aren't buckled either.
Wearing a safety belt is the law here in Virginia. It's the law for a reason.