DRIVE SMART Virginia is committed to raising awareness and changing behavior to improve the safety of the roadways of Virginia.
Phone Down. It's the Law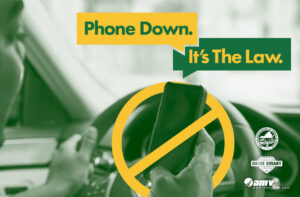 It is illegal to hold a handheld personal communications device (e.g., a smart phone) while driving a moving motor vehicle on the highways in Virginia. Violating the law is punishable, for a first offense, by a fine of $125 and, for a second or subsequent offense, by a fine of $250. Breaking the law in a highway work zone is punishable by a mandatory $250 fine. The General Assembly mandated that DRIVE SMART Virginia and other traffic safety organizations will develop and provide educational materials to the public regarding the law prior to its effective date.
Occupant Protection
Nearly 20% of Virginia drivers do not wear their seatbelts. How do we get everyone in the car to wear a seatbelt? Education and outreach are key. DRIVE SMART Virginia has partnered with the Virginia Department of Motor Vehicles to help roll-out the annual Click It or Ticket campaign each May. The Click It or Ticket message reminds everyone to wear their seatbelt or risk getting a ticket. Wearing a seatbelt is your best defense against a reckless, impaired, or distracted driver.
Designate BEFORE You Celebrate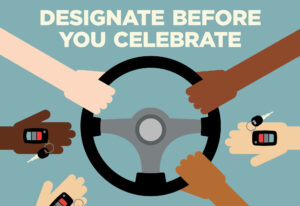 Drinking and driving is never acceptable. It's dangerous. You could injure or kill yourself, your passengers, or others on the roadway. So, if you're going out and you plan to drink alcohol, you also need to plan to have a sober, designated driver bring you home.
Choosing a designated driver could be one of the most important decisions you make.
Buckle Up, Phone Down
April is Distracted Driving Awareness Month.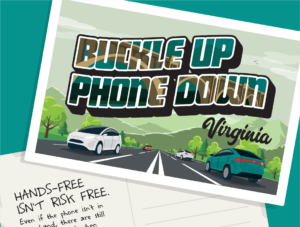 One of the most dangerous things you can do when you're driving is to reach for your phone. Talking and texting are both distractions. Distracted driving has been called a serious epidemic in the United States. 80% of all crashes can be attributed to some form of driver distraction.
In 2020, 3,142 people were killed in motor vehicle crashes involving distracted drivers.  Throughout the year we partner with organizations and work to educate Virginians about the dangers of taking their eyes and mind off the road. Along with cell phone use, eating, drinking, personal grooming, reading, and even tending to pets and children also contribute to hundreds of thousands of crashes each year.
See and Be Seen
October is Virginia Bicyclist and Pedestrian Awareness Month.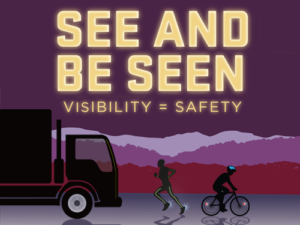 More and more, Americans walk or ride their bikes not just for exercise but for transportation. We work with motorists to educate them on how to share the road with bicyclists and pedestrians. We remind them about key safety practices, such as giving cyclists at least three feet of space when passing and yielding to pedestrians in crosswalks.
Bicyclists and pedestrians have responsibilities too. We partner with bike and pedestrian groups to foster a close working relationship with the goal of reducing the number of crashes, injuries and fatalities.