Designate Before You Celebrate
If you're going out and there is even a possibility that you may drink alcohol, you need to plan for a safe ride home. With just a few drinks you could be too impaired to safely drive. If you choose a designated sober driver before you drink, you can have a good time and get home safely. Designate BEFORE You Celebrate!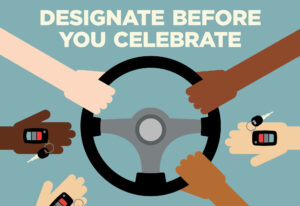 In 2020 in Virginia:
272 people died because of alcohol-related crashes. That's 32.11% of all traffic fatalities in Virginia!
3,986 people were injured in alcohol-related crashes. That's 7.56% of all traffic injuries.
6,624 alcohol-related crashes represented 6.27% of all crashes.
Choosing a designated driver could be one of the most important decisions you make!
It's so easy:
With so many options available, now more than ever, there is simply no excuse for getting behind the wheel after drinking.
Cab Service
Ride Sharing Service (Uber, Lyft, etc.)
Designated Sober Driver in Your Group
Phone a (Sober) Friend
Many localities offer free ride services during the holidays.
A designated sober driver is truly the Life of the Party!