My Family Was Devastated by a Distracted Driver
Leave a Comment
This is the second in a series of blog posts written by people who have had their lives turned upside-down by a distracted driver.
Christina Dempsey tells of three lives lost in one instant:
On August 27, 2013, my sister's boyfriend Mike, his son Michael, my sister Bethany, my niece Lauren, and soon-to-be niece Abby, were traveling home after picking Michael and Abby up from the airport. Bethany, Lauren, and Abby were sitting in the back seat of Bethany's Toyota Camry in stop-and-go traffic when it was struck from behind by a flatbed truck carrying a forklift.
Police said the truck was traveling 55mph – and its driver never hit the brakes – killing Bethany, Lauren, and Abby. The impact was so violent that the flatbed truck continued forward, causing my sister's car to strike several other vehicles. When it was over, eight vehicles were involved in the crash. The road was shut down for hours. According to investigation reports, the driver of the flatbed truck was distracted for the entire 12.6 seconds prior to the crash.
As Firefighter/Paramedic, I see so many accidents that are caused by distracted driving. After losing my family to a distracted driver, I want to prevent other families from going through what my family continues to go through.
Traveling throughout Virginia, I speak to high school driver education programs, Come Home Alive programs, prom programs, and I work with DRIVE SMART Virginia in their distracted driving awareness programs. Law enforcement agencies work with me in different programs in their communities, outreach programs, and driver safety within their departments. I educate fire and rescue departments as well.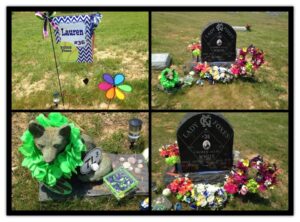 This is where we now visit Lauren and Abby on birthdays and holidays. When I want to spend time with Lauren, I must go and visit a stone. When her friends want to be with her they must go visit a stone. Abby is right across from her school. Her friends must go visit a stone.
My sister was cremated and is home with my parents. Family and friends visit her when they go over. My nephew is now 14 years old and goes to my parents and must talk and visit with a box. I take him to buy her Mother's Day gifts so he can take them to her.
In February 2015, the driver of the flatbed truck received a sentence of 3 years jail time, 5 years supervised probation, a $5,000 fine, and 200 hours of community service. The judge suspended the 3-year jail sentence.
One year for each innocent life taken, suspended.
– Christina Dempsey
Please sign our petition telling the General Assembly to Make Virginia Drivers Put Down the Phone!