Make a Difference This Thanksgiving
This is the first in a series of guest blog posts.
By Alex Epstein
Thanksgiving is almost here and you can practically smell it, made warmer and richer by the anticipation of gathering together with loved ones. We get to celebrate and hopefully enjoy a brief rest before the long weekend is over and we have to go back the regular routine on Monday.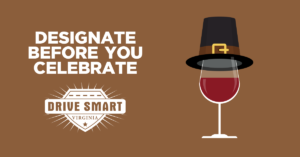 And aren't we lucky to assume that Monday will roll along, just like it always does? But the sad and largely unacknowledged fact is that for many Americans, Monday won't arrive as usual.
The National Safety Council estimates more than 400 individuals will die on our roads and more than 47,000 will be seriously injured in traffic crashes over the long Thanksgiving holiday. Going back over the past 10 years, the numbers are essentially flat. We haven't had a big shift either way; this has become the status quo. But if we're ever going to get to zero deaths and injuries on our roads, every life, every injury matters and we have to do better.
Also remaining flat are the number of fatal crashes over the holiday involving alcohol impairment. Since 2013, they've hovered around 35% of the total crashes, a number that is also shocking not only because of its size but the fact that it's remained stagnant. NSC supports state efforts to lower the legal BAC limit from .08% — Utah approved .05% — but the science shows that impairment starts at the first drink.
We have to do more to make our roads safer. You, me and every driver can start this weekend. If you're getting behind the wheel, avoid impairment, including alcohol, recreational and prescription drugs and fatigue. Skip the indulgence, get some rest, stay a while or let someone else drive.
And once you've made that choice, make another to make sure everyone in the car is buckled up, even in the back. NSC estimates that would save 165 lives; an additional 97 could be saved if everyone buckles up.
And, if you live in part of the country where the weather has already turned wintry and the roads aren't great, wait it out until conditions improve. When they do, slow down and use some caution. Drive based on road conditions, not necessarily the speed limit, and make sure you and your loved ones — and your fellow drivers — make it home safe.
Finally, never drive distracted. Put the phone down, don't engage with any electronics and focus on your number one task behind the wheel – driving.
This weekend, relax, celebrate and give thanks for the long weekend. And if we all make an effort to make our roads safer, we'll all have a chance to get back into the regular routine on Monday morning and look forward to the next holiday in a few weeks.
Alex Epstein is the Director of Traffic Safety at the National Safety Council.