Making It Click in Your Community
Leave a Comment
By Kristin Pettway, Senior Project Manager at DRIVE SMART Virginia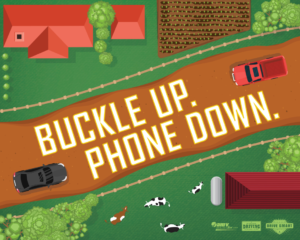 When I accepted a job at DRIVE SMART Virginia a decade ago, one of the first things I thought about was how driving affects everyone.
Whether you are a driver yourself, a passenger of a vehicle, a commuter on public buses, a bicyclist, or even a pedestrian using the sidewalk, safe driving pertains to you. And if you've been lucky enough to not have experienced a crash first-hand, you know of someone that has. You may even know someone who has been severely injured or died in a car crash. Most of us do.
So why doesn't traffic safety matter to everyone? Unfortunately, I don't have an easy answer to that. However, I do have some ideas on how you can bring safe driving topics into your community and hopefully gain some responsiveness toward this important subject.
Traffic safety is not a sexy topic. It's hard to get anyone's attention when you want to discuss the importance of buckling a seat belt or designating a driver. It can take innovative approaches to bring the matter of safe driving into your community. Consider the following:
Work with your local police department. Have them stationed at a shopping center, workplace, or school and hand out "fake tickets" to folks that aren't buckled up or are using their cell phones as they enter the parking lots. Check out the Get It Together program from Drive Safe Hampton Roads for inspiration.
Use our free online store to grab posters and brochures, but be creative about how and where you use them. Hang posters in bathroom stalls or parking garages where they are more likely to be noticed. Put brochures in envelopes with paystubs or when mailing something like an electricity bill, they will be harder to ignore when paired with something so important.
Include traffic safety messaging in community events such as county fairs or seasonal festivals. Place banners with clever, eye-catching messages relevant to the event in parking lot exits. For instance, DRIVE SMART Virginia uses the message "Who's Your Driver- Choose a sober driver and buckle up" at racing events.
Create a game that will educate but also entertain. For example, DRIVE SMART Virginia has a prize wheel and we ask people to either sign a safe driving pledge or answer a driving trivia question before they spin the wheel and win a prize.
Come together as a community. Partner with government officials, local businesses, media, law enforcement, schools, clubs, civic organizations, etc. The more support you have to get the message out, the louder that message will become.
Reach out to us! DRIVE SMART Virginia has plenty of resources to help you engage your community in driving safely. We can bring our distracted/impaired driving simulator to schools or exhibit at local events, just to name a few.
Now is the perfect time to try out some of these ideas. April is Distracted Driving Awareness Month and DRIVE SMART Virginia has super helpful and FREE tools for you plan for your April activities. Check out our Distracted Driving Awareness Month online toolkit that features a sample employee email, social media posts, a press release template, ideas for activities and more. You can also order free brochures and posters using our online store.
Whether your roads are narrow and winding or wide and congested, something CAN be done to make them safer! Most car crashes are caused by driver error and are completely preventable. This means education and awareness are the keys to changing driver behavior. Grab those keys and gear up to better the roads in your community!
Kristin Pettway joined DRIVE SMART Virginia in April 2009. She is currently the Senior Project Manager in charge of teen driver and simulator programs. She has also served as Project Manager for Trucking Programs. Kristin worked as a Program Coordinator for Rutgers Cooperative Extension for several years, helping to provide New Jersey's farmers with the tools to ensure their future. She graduated from Rutgers University with a Bachelor of Science degree.